ESUN new product launch eCure: foldable curing box, have you seen it?
Players who play light curing printing may know that after the photosensitive resin printing is completed, there will be a layer of incompletely cured soft resin on the surface of the model work, accompanied by some printing residues. Therefore, these prints usually need secondary curing to achieve better mechanical or aesthetic effects.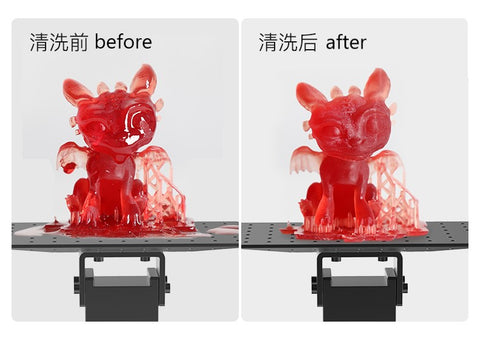 At present, the curing box or cleaning curing machine on the market is usually plastic shell, which inevitably has various problems such as "small curing volume, inconvenient storage, poor curing effect, insufficient strength" and so on.

Based on the above pain points, eSUN specially developed eCure box curing box, which can quickly and completely cure the light curing model in a few minutes. After secondary curing, the model will be harder and smoother than the ordinary model.


Although this product looks simple, it is indeed a great idea, which greatly solves the problem of the huge volume of the original product, especially the high cost in export transportation. In addition to being foldable, the expanded size of this product 280 * 280 * 220mm also greatly exceeds the curing size of mainstream products on the market.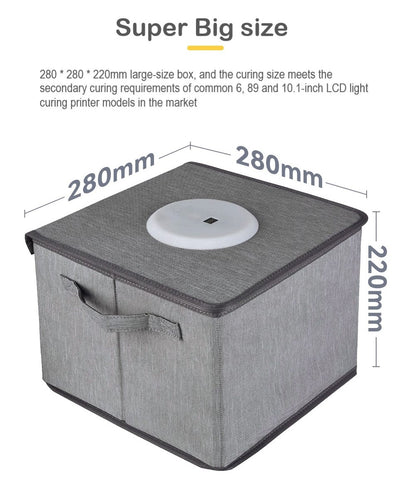 ESUN is also unambiguous in product design. The product has a timing function. The curing time of 1 ~ 16 minutes can be set according to the type and size of the curing model to prevent overexposure.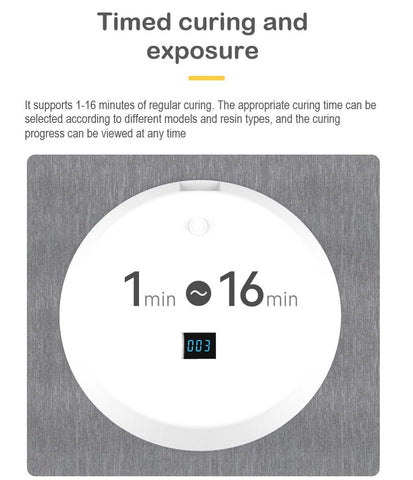 A tool bag is designed on the right side of the product to facilitate the storage of users' tools. Do you like this product?

If you are interested in 3D printing, keep following us. Mr. Ant will take you to the world of 3D printing.
易生eSUN新品发布eCure:可以折叠的固化箱,你见过吗?
玩光固化打印的玩家可能比较清楚,光敏树脂打印完成后,模型作品表面会有一层未完全固化的软树脂,同时伴有部分打印残留物。因此,这些打印作品通常都需要二次固化,以实现更好的机械或美学效果。
目前,市场上的固化箱或者清洗固化机通常为塑料外壳,不免存在"固化体积小、不方便收纳、固化效果差、强度不够"等各类问题。
基于以上痛点,eSUN易生特别研发了eCure箱式固化箱,它可以将光固化模型在几分钟内快速完全固化。经过二次固化后的模型会比普通模型更硬,表面更光滑。
虽然这个产品看上去简单,但确实是一次不小的创意,大大解决了原有产品体积庞大的问题,特别是在出口运输上成本较高。 除了可以折叠外,这款产品展开后的尺寸280*280*220mm的尺寸也大大超过了市面上主流产品的固化尺寸。
在产品设计上,易生也是一点不含糊。产品具有定时功能,可以根据固化模型的种类、大小,设置1~16分钟的固化时间,防止过曝。
在产品右侧设计了一个工具袋,方便用户的工具收纳。这样的产品您是否喜欢呢?
如果您对3d打印感兴趣,就继续关注我们吧。蚂蚁先生将带您畅游3d打印世界。