Description
3DMAKERPRO Mole 3D Scanner 
· 0.05MM ACCURACY
· 0.1MM RESOLUTION
· MULTISPECTRAL TECHNOLOGY
· DEDICATED MOBILE SCANNING APP (requires optional CONNECT)
Accumulation of Hardware and Software
Mole features high precision, 3D scanning objects with an accuracy of up to 0.05mm to capture fine details. With a single capture range of 200*100mm and a scanning speed of up to 10FPS, it can quickly scan a medium-sized object. All of this can be output in the most widely used 3D file formats OBJ/STL/PLY, supporting immediate application or further creativity.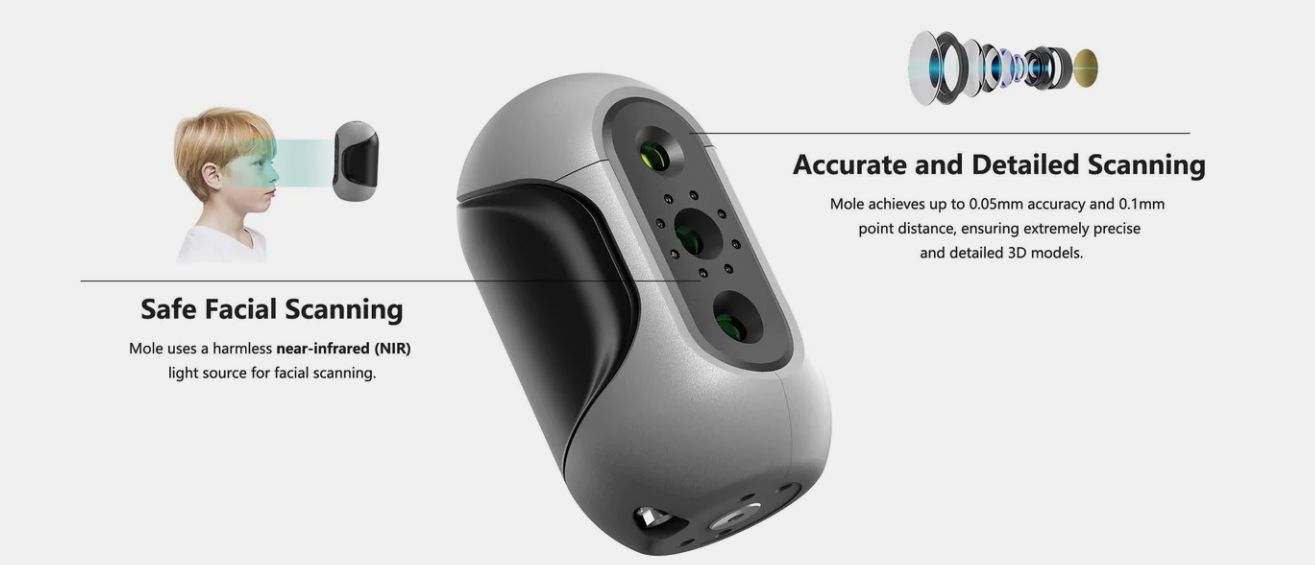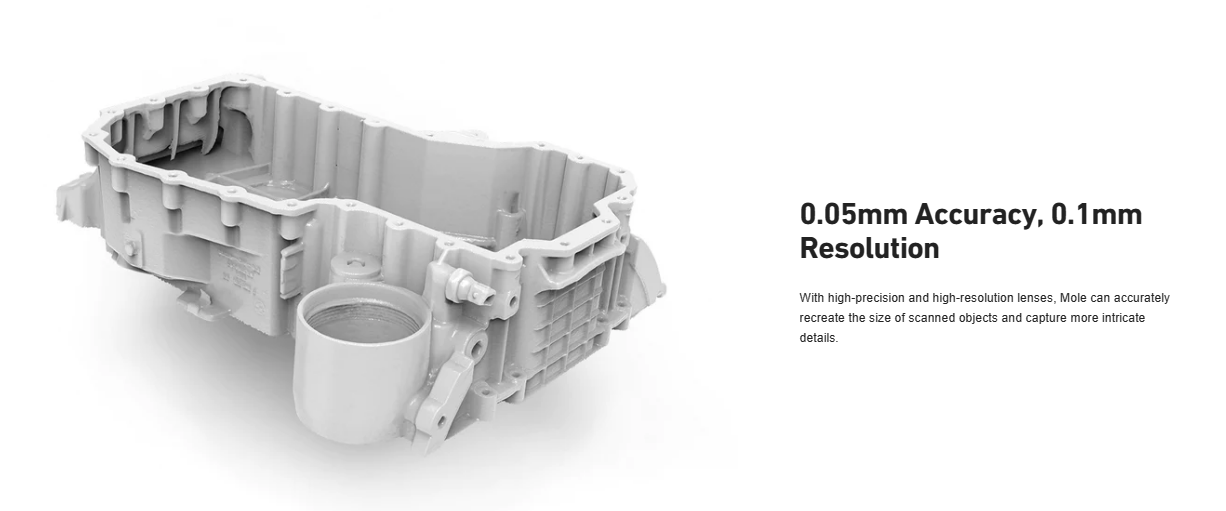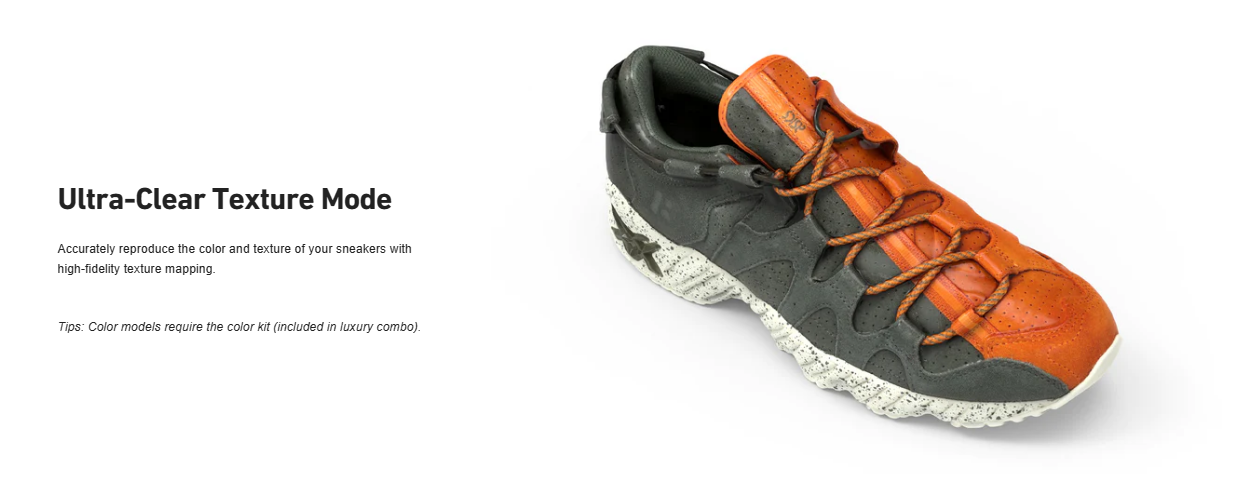 Black objects? No problem
Near Infrared (NIR) has excellent optical compatibility, so even black objects are clearly visible. Mole now includes NIR in its configuration list, enabling it to produce excellent scanning results for objects of different colours.

Incredible scan success rate
Optical anti-shake modules and visual tracking algorithms ensure you get a complete and accurate model with every scan.
Optical anti-shake modules
Equipped with optical anti-shake modules, Mole ensures smooth and stable scanning, even in handheld mode, with high frame rates and minimal distortion.
Comfortable to use
Mole's compact and ergonomic design makes scanning effortless, whether in handheld or turntable mode. Its internal cooling fan operates quietly yet significantly reduces the temperature, ensuring that Mole can operate for extended periods of time.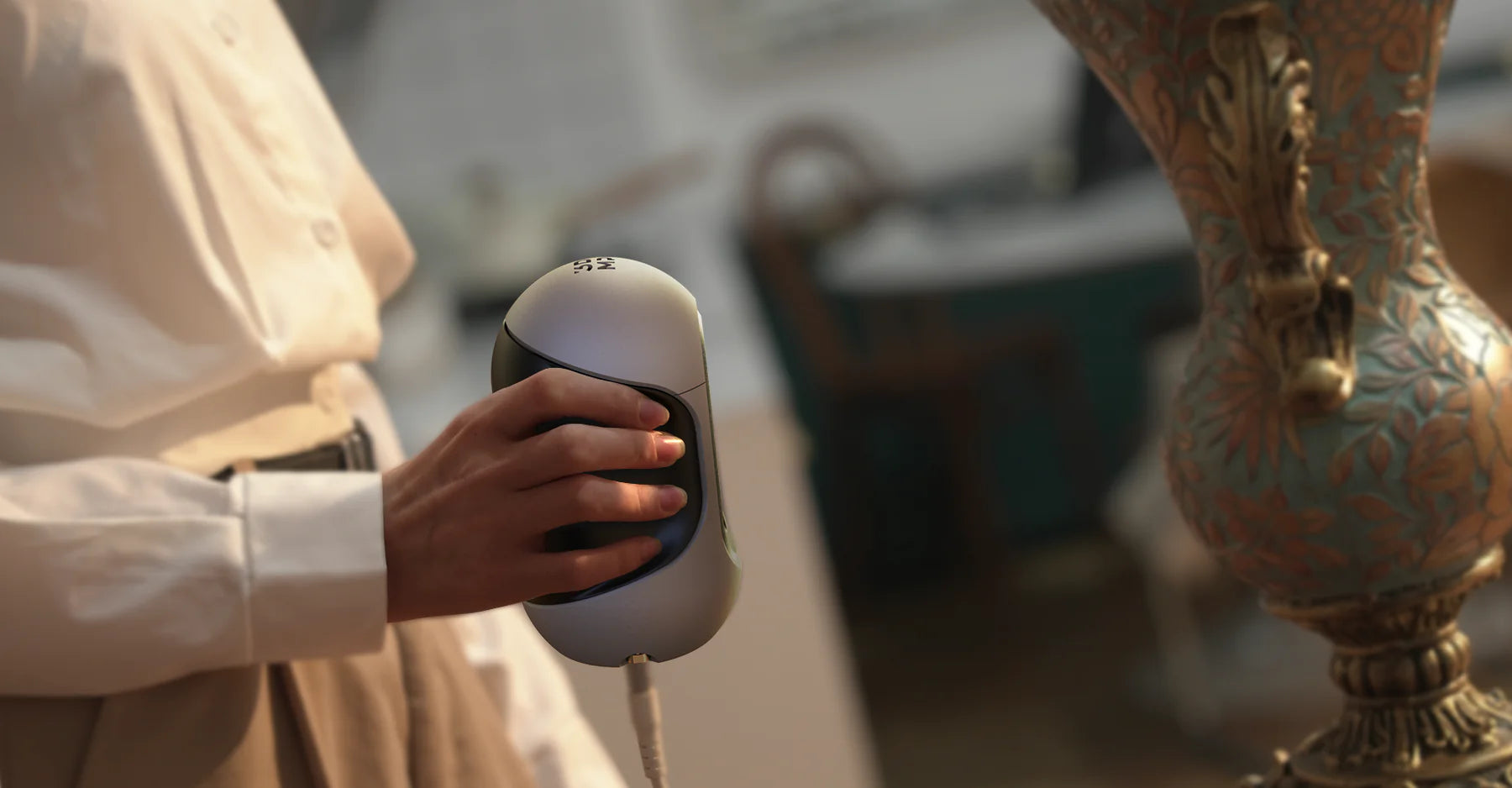 Adding CONNECT transforms MOLE into a portable scanner
Introducing 3DMakerpro Connect, which is designed for portable and stable scanning actions. Enjoy the freedom of scanning with zero limit, wherever and whenever you want.
Tips: Connect requires a power bank with a 12V PD 22.5W type C interface.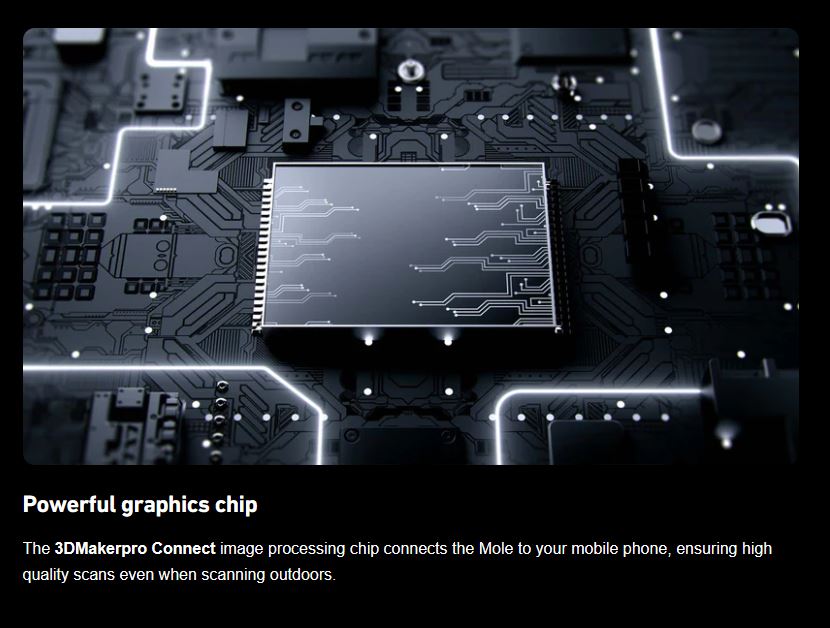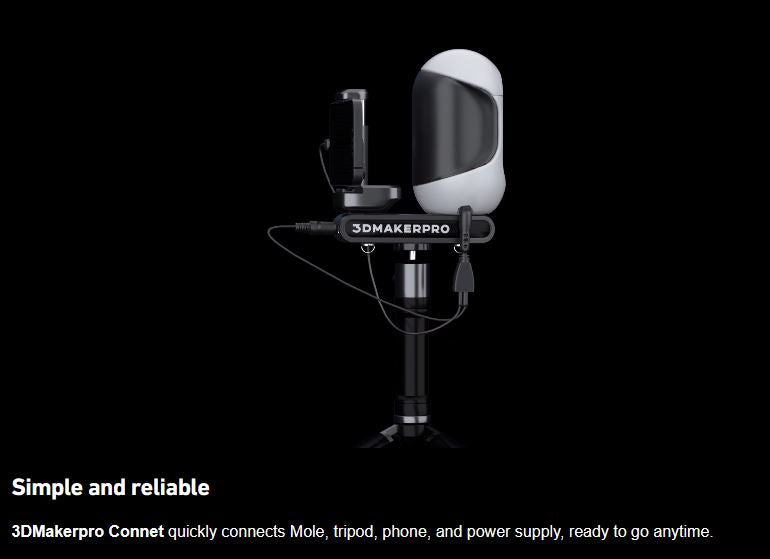 Made for Scanning
Android | iOS
JMStudio has launched a mobile version as part of the 3Dmakerpro lightweight scanning plan. Paired with Connect, you can now scan and obtain any 3D model you desire, anywhere.

Windows | MacOS
JMStudio is 3Dmakerpro's exclusive software, handling multi-mode data acquisition, high-def preview, texture mapping, and 3D model generation for scanning equipment.


Tech Specs
Mole 3D Scanner


Scan Performance Parameters:
Accuracy: 0.05mm
Resolution: 0.1mm
Frame rate: 10fps
Tracking mode: Visual tracking
Work distance: 150-400mm
Single capture range: 200x100mm
Typical object sizes:

 

15-1500mm


Software System Requirements:
Output format:OBJ/STL/PLY
Compatible system: Windows10/11 64bit, MacOS12/13
Compatible mobile: Android 10.0 or later, iOS 15.0 or later (Extended support)
Minimum computer requirements: Intel Core i5 8th, 16GB RAM, MX250 GPU with 2GB VRAM
Recommended computer requirements: Intel Core i7 8th, 16GB RAM, NVDIA1060 GPU with 4GB VRAM


Hardware Parameters:
Light source: NIR
Color texture: Extended support
USB interface: USB2.0
Dimensions: 141x80x80mm
Weight: 390g