Description
3DMAKERPRO Seal 3D Scanner
0.01mm Accuracy
0.05mm Resolution
24-bit Color Scan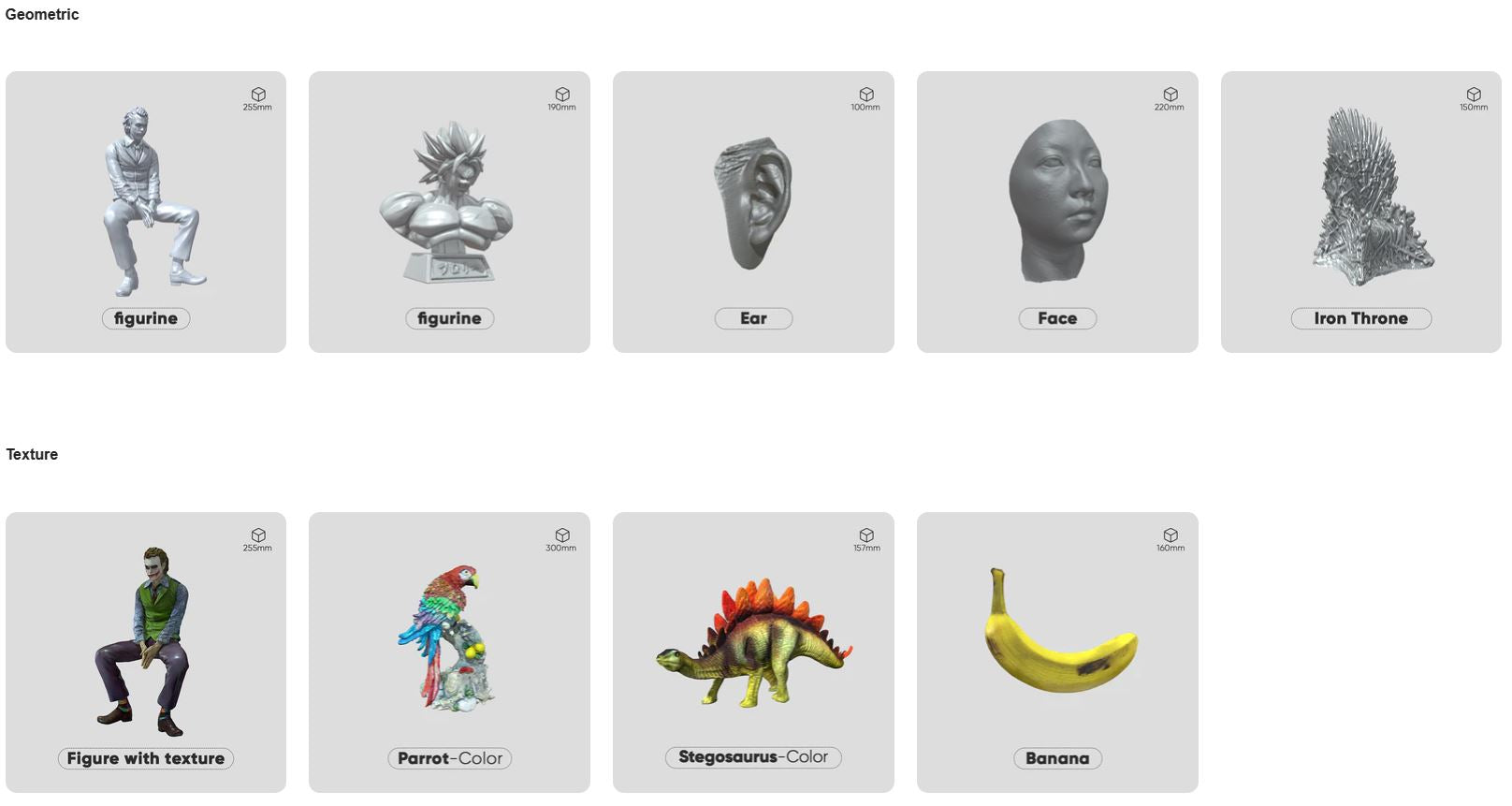 Blue Light Encoded Structured Light
5x More Detail Per Unit
With its shorter wavelength (400 to 500 nano), it projects refined structured light, achieving 0.01mm accuracy. This advanced technology captures even the tiniest dents, textures, and edges, providing unparalleled detail in high-resolution 3D models.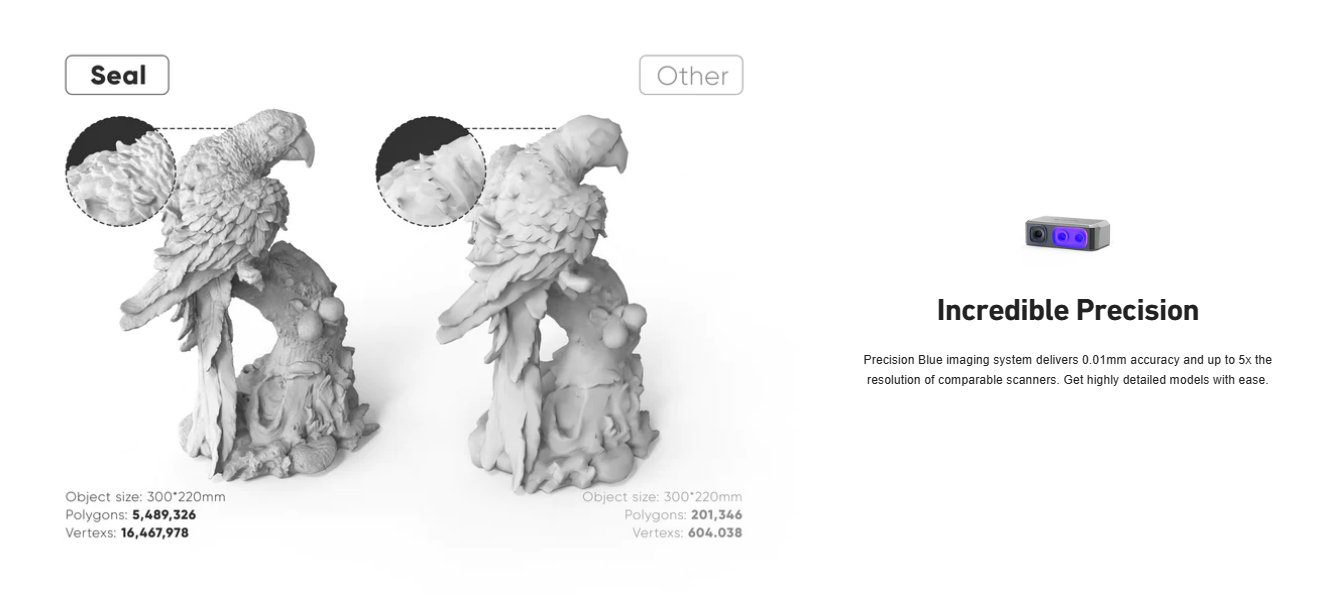 Vivid Textures
24-bit color camera adds vivid colors, contrast, and intricate details to models.
Smooth Scan
Smooth scanning with Seal's advanced optical system and JMStudio algorithms.

Light & Quiet
Take Seal's 254g lightweight design anywhere you need to scan! Experience smooth and quiet scanning with excellent heat dissipation and no fan noise.
Designed for Easy Scanning.
Scan quality depends heavily on software, which is why our proprietary JMStudio is essential. Years of continuous iteration have resulted in enhanced scanning and editing capabilities. Support for 8 languages and lifetime free OTA updates.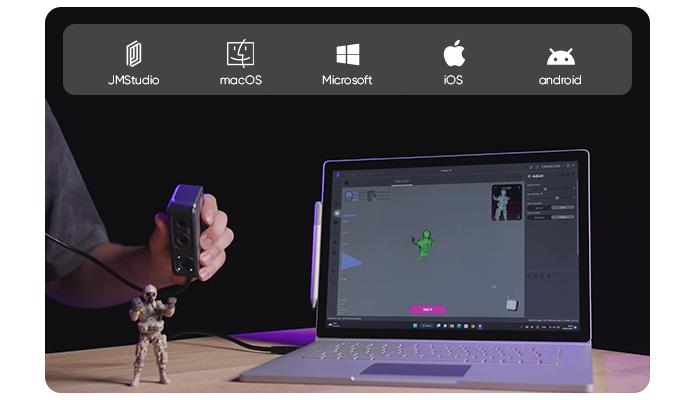 Compatible Software
JMStudio supports exporting files in formats like OBJ, STL, ASC, empowering you to edit, refine, render, or print your scans using your preferred design software.

Intelligent Accessories
3D Scanning Redefined through Intelligence
Smart Grip
Smart Grip connects Seal to your smartphone, enabling on-the-go scanning.
Multi-Axis Turntable
Easily scan objects with automation that lets beginners scan like a pro, and advanced customization with script editing for experts.
Tech Specs
Seal 3D Scanner
Scan Performance Parameters:
Accuracy: 0.01mm
Resolution: 0.05mm
Frame rate: 10fps
Tracking mode: Visual tracking
Work distance: 180-280mm
Single capture range: 100x75mm
Typical object sizes:

 

10-300mm


Software System Requirements:
Output format:

 

OBJ/STL/PLY/ASC
Compatible system: Windows10/11 64bit, MacOS12/13
Compatible mobile: Android 10.0 or later, iOS 15.0 or later (Extended support)
Minimum computer requirements: Intel Core i5 8th, 16GB RAM MX250 GPU with 2GB VRAM
Recommended computer requirements: Intel Core i7 8th, 16GB RAMNVDIA 3060 GPU with 4GB VRAM


Hardware Parameters:
Light source:

 

Blue light
Color texture: Support
USB interface: USB2.0
Dimensions: 110×60×35mm
Weight: 254g
Tech Specs
Scan Performance Parameters:

Accuracy: 0.02mm
Resolution: 0.07mm
Frame rate: 10fps
Tracking mode: Visual tracking
Work distance: 180-280mm
Single capture range: 100x75mm
Typical object sizes:

 

10-300mm

Software System Requirements:

Output format:

 

OBJ/STL/PLY/ASC
Compatible system: Windows10/11 64bit, MacOS12/13
Compatible mobile: Android 10.0 or later, iOS 15.0 or later (Extended support)
Minimum computer requirements: Intel Core i5 8th, 16GB RAM MX250 GPU with 2GB VRAM
Recommended computer requirements: Intel Core i7 8th, 16GB RAMNVDIA 3060 GPU with 4GB VRAM

Hardware Parameters:

Light source:

 

Blue light
Color texture: Mono textures
USB interface: USB2.0
Dimensions: 110×60×35mm
Weight: 226g